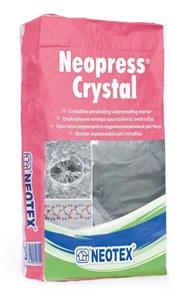 PACKAGES
Carton bags 25kg
Crystalline penetrate waterproofing mortar
Fields of application
Neopress® Crystal is a brushable, cementitious crystalline material, suitable for insulating and waterproofing of concrete. It is Ideal for water tanks, wells, silos, underground rooms and basements, tunnels, walls, as well as surfaces to be covered with tiles.
Properties
Excellent adhesion on concrete, cement mortars, bricks, cement blocks, mosaic, etc.
Penetrates and reacts with moisture and generates insoluble crystals which fills and seals the pores of the surface offering total impermeability to water.
Shows resistance to positive and negative hydrostatic pressure and bridges cracks and cavities
Neopress® Crystal remains reactive, in case of moisture presence and seal capillary cracks up to 0,4mm.